Last month Eebee's Adventures released two new books and I had a chance to review them, thanks to Eebee and Flair Public Relations for sending me two books to review with my children.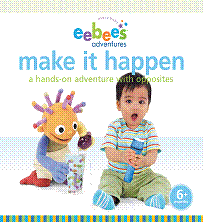 About
Make It Happen
Unlike many "opposites" books that feature abstract concepts, Make it Happen celebrates opposites by changing the world (at least from a baby's point a view) through play, in true eebee style! The colorful images take
children on a fabulous photographic exploration of activities ranging from On and Off with a flashlight to Wet and Dry with a bowl of sparkling water and a fluffy soft towel. Make it Happens shows simple and engaging play ideas with household and everyday objects that transform the ordinary into the extraordinary. for ages 6 months and up.
About Here To There:
As every parent knows, toddlers are on the go, go, go! From Here to There is the ideal book for the intrepid and adventurous toddler. This thrilling book is the up, down, and all around adventure for active toddlers who are discovering stairs, slides, and anywhere and everywhere hide and seek games. From Here to There provides parents with exciting and entertaining ideas to help develop motors skills and independence, featuring adorable babies and eebee. From Here to There will take toddlers miles beyond the page! for ages 6 months and up.
In My Opinion:
Both of these books worked great for bedtime stories with Baby K.  As a family we read books every evening before bed and while the "big kids" are reading their story Baby K usually sits up on my lap as we snuggle up with a good baby book. Eebee's
Make It Happen and Here To There's colorful pages allowed us to enjoy our bedtime reading routine a bit more than we have previously.
Eebee's adventures has great products for
children and encourage learning in a fun, unique way!
I am always happy to review Eebee's products because I can stand behind their products and feel very strongly that Eebee's Adventures knows what they are doing in regards to entertaining while education young
children. To learn more about who is behind Eebee's Adventures please click here to visit their website.
Make it a Happy Day!
via Eebee's Adventures Great Learning Products For Baby | Happily Blended.